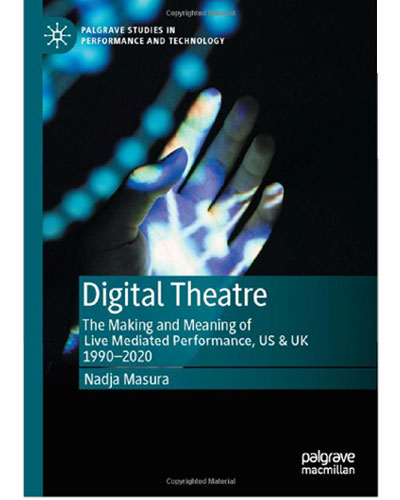 Book - Digital Theatre: The Making and Meaninging of Live Mediated Performance US & UK 1990-2020 (published Nov 2020 by Palgrave MacMillan)

Subjects: Communications, Digital Technology, Digital Humanities, 20-21st Century Theatre History, Future Trends, Performance and Theory. Available on Amazon. Amazon.com

This book was a labor of love having a long germination after graduate school. It is a first, second, and thirdhand look at the movement of Digital Ttheatre in the last three decades. It is intended for use by both theatre scholars and practitioners, but is also of interest to technologists exploring AI, AR, VR, Projections and Interactive Environments, Multi-site video events, Motion Capture, Robotics, Web-User driven content, and other areas in which technology and arts/humanities/performance intersect.

Digital Theatre is a rich and varied artform evolving between performing bodies gathered together in shared space and the ever-expanding flexible reach of the digital technology that shapes our world. This book explores live theatre performances which incorporate video projection, animation, motion capture & triggering, telematics & multisite performance, robotics, VR & AR. Through examples from practitioners like George Coates, the Gertrude Stein Repertory Theatre, Troika Ranch, David Saltz, Mark Reaney, The Builder's Association, and ArtGrid, a picture emerges of how and why digital technology can be used to effectively create theatre productions matching the storytelling and expressive needs of today's artists and audiences. It also examines how theatre roles such as director, actor, playwright, costumes & set are altered, and how ideas of body, place and community are expanded.

Nadja Masura, PhD. is a former Maryland Institute for Technology in the Humanities Fellow with degrees in Theatre from University of Maryland, Michigan, and Puget Sound. She also holds degrees in Multimedia Authoring and Integration and Graphics Design. Nadja is a director, dramaturge, performer, and visual artist and works with Arts NPOs and the Tech Industry. She is also a digital dramaturge for an AI.

Endorsements:
"Brilliantly conceived and executed, Digital Theatre documents and illuminates the myriad ways theatre artists are re-imagining the relationship between live theatre and digital technology, a process that is concurrently altering traditional relationships within production teams, artists and audiences, and, potentially, society writ large. The book's focus on praxis, featuring informed discussion of diverse digital theatre practices, including the author's own work, increases its appeal and importance as a resource for theatre artists, educators, and anyone interested in cultural and social transformation."

—Cheryl Black, Curators' Distinguished Professor Emerita, University of Missouri, USA

"In this age of COVID-19, performing arts organizations around the globe are scrambling to find ways of using digital technology to keep them connected to their audience. Digital Theatre reminds us that theatre and dance artists have been exploring the parameters of such work for decades. This timely study will be of great value in meeting the challenges of integrating new technology and the experience of live performance."

—Franklin J. Hildy, University of Maryland USA. Co-author, with Oscar G. Brockett of History of Theatre, Senior Research Fellow Shakespeare's Globe, London.

"Nadja Masura's book is deeply informed, expansive in scope, and pellucidly clear. It is an invaluable resource for theatre-makers and theatre-goers interested in the wide range of ways that artists are using digital media to enhance and transmogrify the theatre event. At the same time, it provides an important record of a recent, transformative moment in theatre history."
—David Z. Saltz, University of Georgia, USA, co-author of Performance and Media: Taxonomies for a Changing Field, Co-director NEH Institution for Digital Technology in Theatre and Performance Studies

"Digging into the Digital Performance Archives, Nadja Masura has emerged with a potent distillation of the last three decades of digital technology in the theatre. This book elucidates key concepts from the field through ample examples drawn from a wide variety of artists. This book is a treasure trove for anyone interested in the very consequential digital turn in theatre."

—Kevin Brown, Digital Media and Performance Studies, University of Missouri

"When the pandemic hit, many theatre artists faltered at the losses of our usual practices and structures. Nadja Masura's book reassures practitioners and audience members alike that there is a rich history of digital technologies that have been used to great effect. This thoroughly researched and beautifully accessible book could not be more timely."

—Joan Lipkin, Artistic Director That Uppity Theatre Company, Visionaries award recipient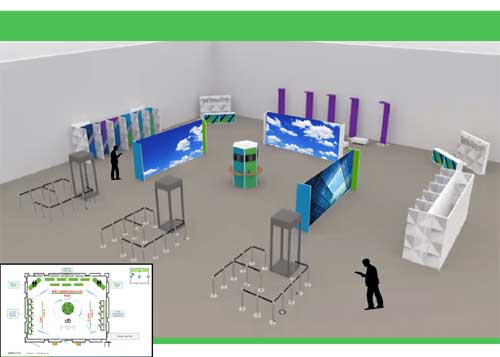 Tech Writing
(Tech Industry) Product Launch for SalesForce
Editing whitepaper with UX Design Team
Working with Developer on the User Guide, wrote the useror technical manual (step by step exploration of functionality)
Wrote scripts for theatrical skits to be performed by top level staff and Tom Cruse impersonator and shown in Las Vegas as part of main presentation
Co-writing, narrating, and video editing (Premiere) the product demo video
Editing the master PPT from multiple groups working on the product for kiosk demo
Worked with Global Design Team on the Look of the Display Space
(Additional work included supporting staff with poster graphics, newsletter editing, PPT)
Rhymes with Disco:
(Tech Industry) Internal Marketing Rebranding
Content, Editing and Graphics tasks including:
Headers and Images for internal website, reorganize content sections and freshen overall visual look
Writing and Editing bios, emails, newsletters for management
Branding materials for Reorg: posters, logos, PPTs, facilitating naming process
Video interviewing management for career journey perspectives
Working with marketing team on multiple comms branding projects

Web Verticals and ContentDescription: For years I have been helping web clients compose and clarify written content for their web sites. Many have been artists and local business owners without the time, or ability to sort out the cleanest, clearest way to communicate their ideas and services online.
Recently, I was contracted by a startup to create web verticals for their product; basically to research the types of information (categories of topics for determining both navigation structure and message content) and the language style likely to be used by business owners who would want web sites. This meant researching and summarizing web site content in several different fields including: a yoga studio, non-profit, musician or band, lighting specialists, contractors, farms, actors and tutors, then composing content to be adapted or replaced by future clients.
Sample Text: (Yoga Studio)
Main Nav: About The Instructor/Studio, About Yoga, Class Schedule, Testimonials, (Store/Facility), (Community/Subject Links), Contact
About Us: The Sebastopol Movement Collective is a group of dedicated healers committed to natural forms of stress release and movement therapy. Between us, our staff offer several life-times worth of experience working with the body and invigorating the spirit. The collective has existed for about 10 years now and includes a chiropractor, misuses, an aroma therapy expert, three yoga teachers, a spiritualist, and a dance and palates teacher. Classes and individual healing sessions are available to the public by appointment. Regularly scheduled classes are drop in unless otherwise listed on the schedule of classes.
Bios: Dan Winkle, chiropractor, was born in Seattle and loves fresh figs. He has been cracking backs for 30 years and is known for his beautiful blue eyes. Ann Mustard, physical therapist and missus, is known for her deep tissue work and her good sense of humor. Ann has been practicing in the bay area for 23 years. Elizabeth Sweet, aroma therapy goddess, has been mixing natural brews for a decade and is licensed through the College of Botanical Healing Arts, in Santa Cruz. Annie Twist, is accredited yoga instructor specializing in Tantric arts. Joe Tumble is a yoga instructor specializing in meditation...
The Benefits of Yoga*: (*Adapted from the Yoga Alliance.)
Stress Relief: Yoga reduces cortisol (the stress hormone which, though a natural response, can deteriorate health if constant or unchecked) and aids in relaxation and general well-being.
Pain Relief: Yoga asanas (postures) along with meditation can reduce pain in people suffering from chronic pain.
Respiratory System: Pranayama breathing practices improve lung function, long slow breaths activate healing.
Flexibility: Mobility, flexibility, increased range of motion are all improved through yoga.
Weight management: Loss of weight can be associated with yoga and healthy living.
Improved circulation: Oxygenated blood is essential to vitality and longevity.
Cardiovascular Conditioning: Yoga can lower resting heart rate, increase your endurance and improve oxygen uptake.
Presence: Be in the now
Inner Peace: Cultivate inner calm.
Additional info: Styles of Yoga, Class Schedule and Descriptions, Class Pricing Options, Testimonials, Contact us.
Contact me if you would like to read more.

Corporate Publishing
6 years corporate experience working with the product development team in a division of a major publishing company. The work is deadline driven, can require both intense focus and attention to detail involving aesthetic judgment and complex file structures as well as multi-tasking, and work on demand to meet variable deadlines. Familiar working with co-branded and re-branded materials, working within specified parameters and templates, and proofing standards and markup. My eyes are usually the last to see the product which has passed through several dozen iterations (NY and distributed team editors etc.).

Marketing Content WGLI
Description: For several years I worked with the Women's Global Leadership Initiative as their Marketing Lead which meant many thing including overseeing the PR content going out as well as working with the non-profit's founder to clarify their core message. This process was lengthy and ongoing, but very productive. We began with an interview and worked the language until it fit both the spirit and drive of both the founder and her ideals and goals for the organization. The message has evolved over time and core of what we wrote is still available on their web site www.wgli.org As a sample of practical writing I am using a sample press release here.
Text Sample: Building A Strong Community of Women: How to Transform Relationships Among Women...
Mothers, Daughters, Sisters, Aunts, Friends, Colleagues-- who do you need to reach out to? Everyone can use a little help communicating in a way others can hear and respond to with respect and love. This presentation will address important communication issues to help you strengthen and build community with the women in your life, so we can treat each other with the kindness and honesty that we all deserve.

Diana Ruiz, Founder of the Women's Global Leadership Initiative, will facilitate a dialogue to discover healthier ways to address conflict. Topics will include Recognizing & Transforming Indirect Aggression. Women are culturally & socially conditioned to be nice and to avoid direct conflict. In the workplace, we can be harmful to one another, using negative mechanisms like gossip, shunning, and sabotage that prevent us form helping each other succeed.
Everyone, male and female, benefits when women learn healthy ways to address conflict in our personal and professional lives. We can begin to establish positive new behaviors and learn to remain mindful of the shared potential for the highest good in one another!

Research & Dramaturgy
Description: I was the Staff Dramaturge at the 6th Street Playhouse in Santa Rosa California for several years. I served the function of educating the director, actors, creative team, and audience about the productions they see; connecting them to history, artistic, and social/cultural elements which ground the production and help foster a deeper understanding of both text and may influence artistic choices. My primary task is to research and then share my findings in terms of giving presentations and facilitating post-show talk-backs, creating informative posters for lobby displays and program materials, talking with the cast and crew, preparing actor packets or a research "book" for the show, and participate in selecting plays for reading series, as well as occasionally working with playwrights on scripts in development.
Jolly Juliana – written and directed by Larry Williams
Holiday melodrama and vaudeville
The Book (extensive research including: melodrama, vaudeville acts, railroads/Santa Rosa 1905, and medicine shows)
Audience pre-show/post-show presentations
Wrote program notes, the program itself was done like a newspaper circa 1905 (from archival material)
Lobby display (posters-vaudeville, melodrama, and train station theatre area 1905, video, historical artifact, props)
Clyborne Park – by Bruce Norris directed by Carl Jordan
Pulitzer prize winning play; the same house in Chicago neighborhood in two different time periods.
Book on issues of gentrification, current race relations
Interactive lobby display, audience response, major race moments then (Selma) and now (Ferguson, etc.), local race shootings, video (PBS)
Worked with General Manager to reach out to local race, housing organizations and agencies to be at premier and to bring informational materials for lobby display
Anna in the Tropics – by Nilo Cruz directed by Marty Pistone
The story of cigar workers in Florida in the late 1920s, a story of passion, betrayal, and ultimately growth in the complicated relationships between men and women.
Researched Ybor city, cock fighting, Cuban cigar making, Anna Karenina, religious practices, family structure
Helped organize a cigar rolling demonstration for the cast
Advised director and actors on character choices and parallels between Anna Karenina and the play
The House that Jack Built – by Cecilia Tichi directed by Craig Miller
A new work in celebration of the centennial of Jack London's death coinciding with a major conference on the author. The story centers around Jack's relationship with friends at the First and Last Chance Saloon (recalling glory days), and his relationship with his second wife as they prepare to move into Wolf House, and his socialist moral convictions.
Actor packets
Script editing of new work
Experiential field trip for actors
Bonnie and Clyde the Musical – by Frank Wildhorn directed by Craig Miller

One Man Two Guvnors – by Richard Bean directed by Carl Jordan
Selecting Plays
In addition to editing and selecting content for Simply Sonoma, I have served as juror (judge) selecting written content for the following:
The Jane Chambers Play writing Award (a national competition held by the Women and Theatre Program)
The New Playwright's Festival (Sonoma County Repertory Theatre)
Tapas (short play festival produced by Pegasus Theatre)
The Staged Reading Series (6th Street Playhouse)
Additional Areas of Research
Lead committee researching report for board on effective models of theaters in the US (based on lists from the Theatre Communications Group).
Ongoing research in Digital Theatre, Site-Specific Performance, and Digital Humanities

Description: Since graduate school, I have continued to research, present, and publish on areas of theatre, community, and innovation. Site-specific performance, Digital Theatre, and Community Devised and local history are of special interest to me. I have presented at IFTR, ASTR, MLA, ATHE, WTP, and the Planetary Collegium. Currently, I am in discussion with a publisher on a book. (Fingers crossed.) Here is a review I wrote for Theatre Journal on a theatre/media innovator. I am currently seeking a home for an exclusive interview with this group.

Sample Text: The file is available as a PDF.

Blog Editor, Photographer & Contributing Writer
Description: For several years myself and a group of peers have published a blog called <! Simply Sonoma (active for 4-5 years) a destination for all that is fresh, local, and fun; the essence of what is good about life in Sonoma County. It is a place to find new recipes based on produce you can find at the farmer's market or harvest from your garden, beautiful pictures of flowers and plants in season, articles on vacationing in your own back yard, relaxation , home projects. It includes editorials and features on local arts & culture, towns to explore, shopping, nurseries, bakeries, spas, antiques, farmer's markets, florists/farms, bakeries.
In addition to setting the yearly (seasonally coordinated topics) assigning articles and monitoring the production flow, I also edit the article for content structure, clarity and flow before handing it over to our proofreader. I also contribute by writing articles and managing the floral section (as well as contributing the photography to illustrate articles).
Sample Text: For those of us who love the water, there is nothing more engaging than a surfer at play. The way they harness the force of the ocean, riding the waves becomes a dance with the ocean itself. Each wave is unique, each moment an active metaphor for what it is to be a human in deep conversation with the earth's essential element, water. There is something primal and awe-inspiring in their ability to become a part of the moving landscape. They playfully emulate natural spirals, and artfully carve shapes into both the great moving canvas of the Pacific, and into our collective cultural imagination.
For years now, as an avid swimmer and child of the Left Coast, I have been fascinated with the water benders we call surfers. I've watched and photographed them in Santa Cruz, but even though I grew up here (and swam in the Laguna at Salmon Creek as a kid), it never occurred to me that people were surfing our beaches. It was a So Cal thing. Right? After all, as children we had been warned from swimming in our native water for some pretty good reasons: undertows, rip currents, sleeper waves, rocks… it was just too cold and sharky! I am glad to know that I was wrong; the words "surfing" and "Bodega" do go hand and hand.
Sarah Molica, owner of the Northern Light Surf Shop, in the town of Bodega schooled me in the history, culture and practice of surfing in the area, and opened my eyes to a whole new way of looking at our local coast... Sarah is the definition of success; she is happy in her life and does what she loves for a living. Although the pace might seem slow to some, sitting out front of the shop, sharing a beer and conversation with locals, helping customers that wander in, and returning to the porch to talk and wave back at the people in cars who smile and wave their greetings to her…it seems so good, so "just right." ... at the hub of a very happy, relaxed, and kind community of people who love the water. Read more...
Link to Articles: Mineral Baths, Collecting Glass, Meditation Spaces, Sweat Peas, Bird watching, Vitiating Artist Studios, The Fair, Naked Ladies (Amaryllis Belladonna), Floating Pumpkin Patch, Editorial:January, Salt Point, Surfing Sonoma

Educational MaterialsDescription: I am trained as a theatre professor and have creates several courses for University level instruction including: Theatre History, Introduction to Theatre, Digital Dialogues (Mary Shelly's Frankenstein), and recently I mentored a professor at University of Arkansas in creation of this theatre history course. I have also created, vetted, and taught materials for WGLI's Core Curriculum modules as part of the curriculum committee.
Sample Text:
Creating Effective Presentations by Nadja Masura
, PhD
(Total time 60min)
Purpose:
This module fits into the over-arching plan in that it provides the participants with the tools they need to confidently give presentations. This will allow them to present their community project to the workshop and to the larger world.
Target Goals: Students will be able to:
Recognize effective presentation skills
Identify their own weaknesses and begin to improve them, ultimately shaping their own presentation style
Know the parts of a well organized speech
Recognize and overcome anxiety caused by public speaking, and begin to gain comfort and enjoyment through practice of public speaking
Gain confidence speaking in front of others
I. 5 Keys of Effective Presentations:
(I book-ended this lesson with the five keys gleaned from multiple sources, hoping they would become the bedrock of the skills the student takes away with them.)
Be Relaxed & Have Confident Body Language – Breath, focus, visualize. Have good eye contact, practice good posture, move comfortably, and smile. (Also keep water at your side to avoid dry mouth).
Know Your Material -- Practice, get the gist of the ideas and memorize a few key points or quotes, know your introduction conclusion and at least 1-3 main points by heart, use cards, and practice any Power point or other presentational technology (they add time).
Use Concise Communication – Have a compelling introduction and conclusion. Limit your talking points to 5 +/-2. Understand the importance of pacing. Limit Power Point, don't overwhelm your audience with too much information for the time allotted (time yourself --it is better to have more time to take questions) and make sure your ideas flow well from one to another.
The Big Idea -- Know and communicate what you want them to think/do when they leave. Repetition of important words or ideas in 3's.
Love Your Audience/Topic --Love what you do, it's infectious! The audience wants you to succeed because they want to hear what you have to say on the topic. (Re-label feelings of adrenaline/anxiety as excitement!)

Public Speaking, Faciliating, Leadership
Description:
In addition to providing written content, I have experience in oral communication including facilitation and public speaking.
Facilitating Run Forum a public event with regional legislatures
The Women's Wellness and Herstory events (WGLI at SRJC)
Speaking Events on Citizen Diplomacy (for several years)
Speaking on behalf of Book Festival (radio, press, groups)
Speaking on Panels and Lectures (ATHE, MLA, ASTR, IFTR, Planetary Collegium)
Performing on Stage
Leadership training with WGLI, Earth Stewards
Working in online communities
(Running online auction)
Teaching and Lecturing

Scripts Description: For years now, I have participated in creating both site-specific local and online global performances rooted in the question of place. Locally, I engaged one project that required 3 years of ethnographic study, transcription and editing together a script (Re-Memebering Harmony). Likewise, while collaborating with the online community Art Grid for several years and wrote much of the content for performance including editing together one script around a central concept of compass points between 4 distributed participants. Other local history projects include Morningstar the musical and the Cemetery Walk where I have written 3 vignettes based on the lives of interred community member's via archival material.
Anita Laton "I Remember life at Joy Mill"
(Father's name is Al. Note that historically her uncle Ben Joy worked at the Joy Mill owned by her Grandmother while her father worked at Duncan Mill. We could change the male character to be Uncle Ben although he is a composite of her father, uncle and cousin Will. Most of the words and ideas are taken from Anita's 1975 memoir essay "Yes, We Logged With Oxen" adapted for the stage by Nadja Masura.)
Anita: They say when you die you walk toward a beautiful bright light. I don't remember that. I don't even remember coming here. What I do remember is living.
I remember the small things: the scattering of quail and the cry of the scrub jay, the woods, dark and beautiful, the irises blooming on the hillside in spring and the spot where the trilliums grow, putting your arms around the base of a giant redwood-- trying to touch fingers with your friends to see how many kids wide the trunk was, picking thimble berries, the smell of pancakes…mmm..
(Smiles) I remember the sweet smell of hot cakes on the griddle. Sweet syrup or honey and fresh butter melting...
Breakfast at my grandmother's mill (the Joy Mill) in the hills outside Occidental, was a hearty meal: big dishes of hot cereal, (to herself: mmm rolled oats); fried potatoes left over from those boiled for last's night's supper; fried meat –chops, steak, bacon, ham; home made bread, hot yeast rolls or pancakes with honey, jam, jelly, home canned apples, peaches, or berries.
I remember Annie up early, busy in the kitchen. Lighting the fires in the kitchen stove, "getting up steam," and starting to get breakfast ready. ...