Research on Place & Community
Statement
Harmony
Morning Star
Online
Writing
Although I was exposed to various types of communal living as a child, perhaps the only experiences which echoed with a deep sense of meaning and community were those in which a common goal rather than environment were emphasized. Citizen diplomacy efforts, especially those experienced while involved with Peace Child International for many years, and performance community--the temporary community of actors backstage and before an audience, are the strongest evidence of community I have experienced. (I would like to thank all the various casts I have experienced from UPS, to Morningstar, and especially Peace Child Ukraine for this gift.)
In my dissertation, I explored ideas of body, place and community in Digital Theatre. In practice, I studied multi-site performance in the ArtGrid online community. I was also privileged to study with Susan Haedicke theory of pedagogy and performance which were non-standard, humanistic, and democratic. Today, I continue exploring community of place, but now, without access to the Grid and its virtual community --I explore issues of local place-based community (as seen in Morningstar and Re-membering Harmony).
Re-Membering Harmony is a piece I am working on with the Virtual Performance Collaborative for the Occidental Center for the Arts under the model of The Talking Birds (a prominent community based devise theatre group creating media rich performances in site-specific venues).
The site is the old Harmony School campus (a rural K-8 school in Western Sonoma County CA---north of San Francisco) which sat vacant for years and is now being repurposed as housing and a performing arts center. As part of that transition, which has struck some local residents as difficult, I am collecting oral histories of the school from teachers, staff, and students and shaping them into a accessible memory log and on-site interactive performance with images of the past layered on the present...
For more information go to...
Site-specific performance / installation: go to www.occidentalcenterforthearts.com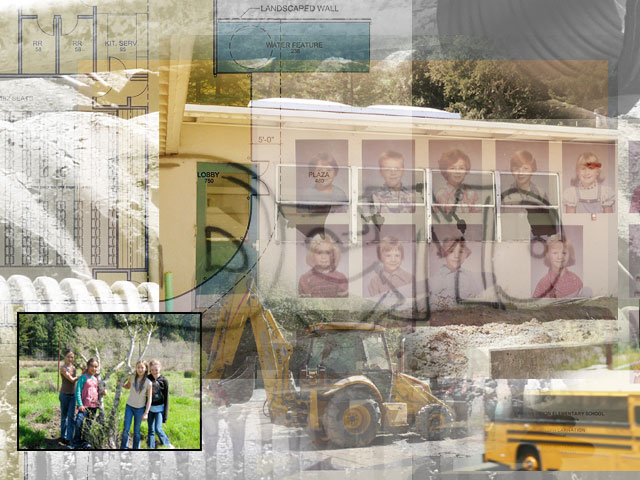 Morning Star
Morningstar, written and produced by Nick Alba, was a new musical based on the life and times of Lou Gottlieb's commune of that name. It was performed in May of 2008 at the Spreckels Performing Arts Center in Rohnert Park, California. The show was rooted in local history—a conflict between (placed people) immigrant settlers and a new wave of counter-culture settlers going "back to the land." It dramatized the conflict between "hippies" and "normals."
Set in the late 1960s, the play draws directly from interviews and historical documents (including newspaper clippings, commentary, photo submissions, and statements of belief) published as a collection by the former residents of the Morningstar commune situated in the hills just East of Occidental (North of San Francisco).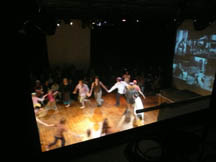 I worked/played with the members of the online performance and art making community ArtGrid for four years at UMD. Meeting monthly on the Access Grid (video conferencing on Internet 2), we shared art, science, and a sense of enthusiastic exploration of the new medium/environment. Thanks much to David McNabb of the VPL Lab who started me off and to Paul Jackson of dance who helped me create/facilitate the final two productions of the local node; and collaborators Jimmy and Beth McLivick, Brian Buck, Scott, Miho, Moira and many other UMD locals I conscripted.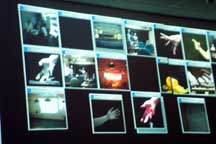 For more information see the media performance page.
PAGE IN PROGRESS...